18-month journey: weight loss without exercise
Prelude – Weight Loss without Exercise
It was the end of January 2017. I had just come back from a 1-month trip to Indonesia filled with binge eating fantastic food I could not find in Sydney. This was done at the back of frenzied Christmas parties in Sydney. It was a great trip back home!
Then, it suddenly hit me… I was on my morning scaling routine and the number pointed to 99.6 kg. It was the heaviest I have ever been. From that moment, I had a mental note to never be a triple-digit in my life.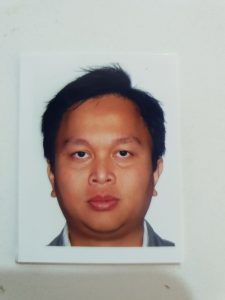 I started researching on what I could comfortably do to reduce my weight… with one caveat: no exercise. I purposely chose to not have exercise because of the following:
Personally, I think having to change two major habits (eating less and exercise more) was not sustainable for me in the long run.
Since I left my Muay Thai gym and moved to a different area, I have not found any that I liked. Hence, I wouldn't be able to consistently exercise.
If you have been trying to lose weight you will know that there are 1,000,000 ways for you to lose weight with differing claims. But there is always one underlying theme: Force of Will. This is what I also would like to stress out: Your success in reaching the goal depends on how much you are committed to it.
Stage 1 – Weight Loss without Exercise
Half 2 Half
Stage 1 was when I did it without any monitoring tools, just a simple scale at home. What I did on this stage was to eat whatever I normally eat but cutting all portion in half. I called it half 2 half because the first half I would eat normally and the other half I would eat two hours after my normal meal time. So in 1 day, I would eat twice for each meal for half the portion each.
The rationale behind this is you would forego the last half because You are not that hungry.
I didn't really measure how long I managed to do this, but after almost one year, I did manage to go down to 86. After that, my weight sort of hover around 86 – 90.
Stage 2 – Weight Loss without Exercise
In June, I found out that two of my best friends: @emmanuelses and @missrasjid have undergone the most amazing transformation.
As per the suggestion of my friends in this stage 2, I used a simple monitoring tool called MyFitnessPal. This app tracks all of my food intake in calories. It also helps set up a goal of weight loss. I wanted to go down from 86.4 to 80.
In the end, it was determined if I were to lose 0.5 kg per week, I have to eat 400 calories less than my Total Daily Energy Expenditure (from 2140 to 1740). I believe 1740 is a pretty moderate goal.
The two advise I could give myself were:
When in doubt, always use the highest calories count from the list of food
Drink lots of water. In my case, it was at least 1.8 litres. I have a 1.8-litre bottle in the office for my weekday need, and I have a 500-ml bottle for the weekend (so that I don't look ridiculous carrying giant water bottle).
In the last 2 weeks of stage 2 and despite the fact that I have been eating less than my recommended daily intake, my weight hovered around 82 – 83.
I then put an end to the goal (having fall short 2 kgs). I tried to establish a new goal in MyFitnessPal of being 75 kg with 0.5 kg weight loss per week. Apparently, for that to happen, the daily intake was reduced down to 1640 by the app.
It was not a bad deal going from 86.4 to 82 in exactly 2 months.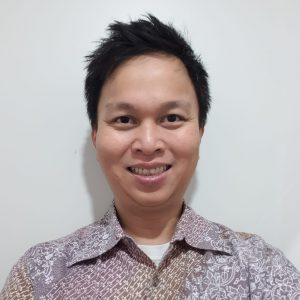 Bonus Stage
After my weight stabilises at 82, I decided to do a light and doable exercise: walking around the office block at lunchtime. I finally managed to break down the 82-kg barrier and, as of 23 August 2018, I was 81.5.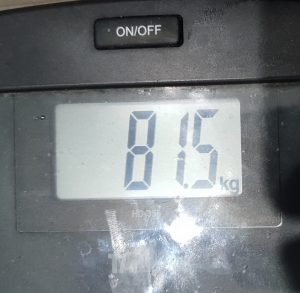 For those of you who are into statistics and graphs, here are a couple of quick graphs that showed the correlation between TDEE (calories intake) and my weight gain/loss.
Conclusion
Going from 99.6 to 81.5 was not too hard if you are surrounded by the right people with the right tools. I also need to reiterate the one underlying theme: Force of Will. Whatever you do, you must commit fully.