2015 NBA All-Star Starters
There were two big surprises in this year's starter lineup. The first one is that Stephen Curry beat LeBron James for the top crown with 1,513,324 votes. It was also quite a surprise that Kyle Lowry in his first ever All-Star would start for the Eastern conference.
LeBron James led the Eastern All-Star with 1,470,483 votes. LeBron James will play on his eleventh All-Star Game. The rest of the Eastern All-Star starters: Pau Gasol (Fifth), Carmelo Anthony (Eighth), and John Wall (Second).
Eastern All-Star will be coached by Mike Budenholzer from the Eastern-leading Atlanta Hawks!
For the Western All-Star, Kobe Bryant scored his 17th All-Star Game. This year will be the second year in a row that Kobe is voted as an All-Star starter, but barely playing an NBA game and will most likely be missing the All-Star game altogether (hat's off to his loyal followers)! Marc Gasol deservedly earns his second All-Star game for his excellent games with the Grizzlies. This will also be Anthony Davis' second All-Star game. The 2015 NBA All-Star lineup for the West is rounded up by Blake Griffin (fifth All-Star appearance)
Western All-Star will be coached by Steve Kerr from Golden State Warriors.
The All-Star Game will be held on Sunday (or Monday if you are in Australia -_-), 15 February 2015 in New York City .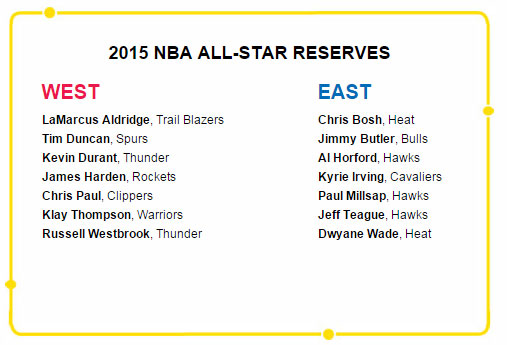 2015 NBA All-Star Reserves
It will be the first NBA All-Star Game for Jimmy Butler, Jeff Teague, and Klay Thompson. For the first half of 2015, these three have been instrumental for their respective teams. In his bid for an All-Star spot, Klay Thompson posted an NBA record of 37 points in a quarter with nine 3-point shots. To put it into perspective, when Denver lost to Memphis 69-99 on January 29, the whole team didn't even score 37 in either half!
Atlanta Hawks is the highest contributor for this year's All-star game with three players, Al Horford and Paul Millsap being the other two.
For more news, visit NBA All Star page.
The Snubs for the 2015 NBA All-Star Lineup
This year's snubs drew quite a lot of controversies. Partially it was because Kobe Bryant, Kevin Durant, and Tim Duncan are nowhere near their bests, but are still chosen to represent the Western Conference. For the Eastern Conference, the omission of Kyle Korver and Brandon Knight raised quite a few eyebrows.
Notable NBA stars missing out this year's All-Star Game are: Damian Lillard, Mike Conley, Zach Randolph, Goran Dragic, Eric Bledsoe, Dirk Nowitzki, Monta Ellis, DeMarcus Cousins, Kyle Korver, Brandon Knight, Nikola Vucevic.
Some of the names above might be chosen to replace Kobe and Dwyane because of their injuries.
UPDATES (11/02/15)
Kyle Korver will replace Dwyane Wade for the Eastern Conference.
Damian Lillard and DeMarcus Cousins will replace Kobe Bryant and Blake Griffin for the Western Conference.