We now have the full 2014 NBA All-Star Lineup!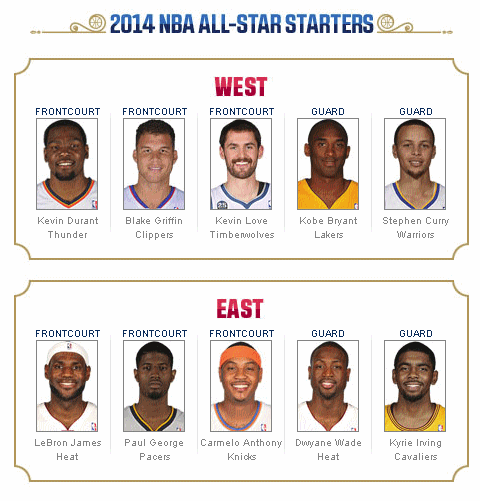 2014 NBA All-Star Starters
Last week, the starter lineup announcement had a surprise starter from the Timberwolves, Kevin Love (Third All-Star Team), snubbing Dwight Howard from the final starting spot of the 2014 NBA All-Star Lineup. We also have Stephen Curry that will start on his first ever All-Star Game appearance. The rest of the Western All-Star: Kevin Durant (Fifth), Blake Griffin (Fourth), and Kobe Bryant (Sixteenth!).
For the Eastern All-Stars, LeBron James, led the vote with 1,416,419 votes, will play on his tenth NBA All Star Game. His buddy, Dwyane Wade will also play his tenth All Star Game. This will be the second all star game for Paul George and Kyrie Irving, with Carmelo Anthony playing his seventh NBA All Star Game.
The All-Star Game will be held on Sunday, 16 February 2014 (or Monday if you are in Australia -_-).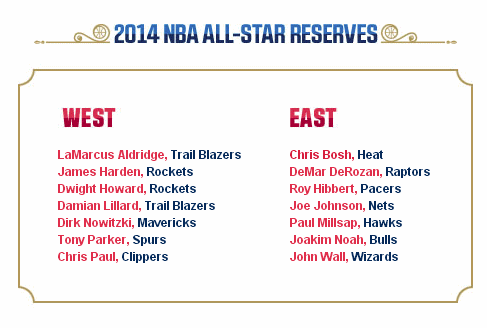 2014 NBA All-Star Reserves
It will be the first NBA All-Star Game for John Wall, DeMar DeRozan and Damian Lillard.
The biggest surprise to this year's reserves was probably the inclusion of Joe Johnson to the team. Johnson has been on fire for the last month for Brooklyn Nets. For more news, visit NBA All Star page.
The Snubs for the 2014 NBA All-Star Lineup
Obviously if you only take 24 players to the All-Star game, there are bound to be players who just didn't make the cut.
Probably the highest profile snub was Lance Stephenson. After launching a video for his bid to play at the All-Star Game, via Sir Lancealot, Lance wasn't picked by NBA coaches. Some other websites thought Kyle Lowry was the biggest snub because of his stats and also the Raptors stats after trading Rudy Gay. Another star missing the All Star Game is Anthony Davis. However, he is widely tipped as the replacement for the injured Kobe Bryant.
Other NBA stars missing out this year's All-Star Game: DeMarcus Cousins, Mike Conley, Goran Dragic, Arron Afflalo, and Tim Duncan